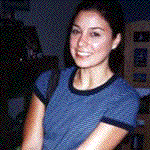 This is the page that talks about who I am. Well, my name is Skye and I live in Wellington, Florida. It's a bit of a snobby town, but it's one of the last decent places to live in West Palm Beach. It has a certain kinda charm to it, I guess. I was born in Minnesota on April 17, 1977, but moved here when I was 8. My Dad left me and Mom when I was 12, so we've been livin' on our own in a small, but nice house in the Evergreens community.
I have a huge sense of irony, and can be cynical at times. My bestest friend in the whole world, Kianna tells me that I am idealistic, and very cheery and hopeful. I think that's a good thing.
I love to paint and my ultimate dream is to one day move to Vermont (the greatest place on Earth, next to England) and open an art shop to sell stuff I do and other people do.
I work at Silver Screen Cinema and Cafe, this small theater that shows second-run movies and serves food. One of the managers, Joanna, is my best friend. her husband runs it for a guy named Steve Bell. So, go visit it if you're in Wellington!
Turn ons: Artistic guys, politeness and Radiohead.
Turn offs: Snobby and rude people, listening to country/rap music and people who can't appreciate art.